An outbound call center is a business facility that staffs agents to make outbound calls to customers and prospects. Companies use them to grow sales, conduct surveys, collect research, and proactively provide customer service.
Inbound call centers maintain existing customer relationships by offering customer support. Instead, outbound sales teams find new leads and follow up with customers through surveys and referrals.
Some businesses may choose to prioritize either inbound or outbound calls. Or they could combine efforts with a hybrid call center.
We dig into the characteristics of outbound call centers to help you determine whether one is right for your business.
Table of Contents
What is an outbound call?
An outbound call is a phone call dialed from a call center agent. It differs from inbound calls since the agent initiates the conversation.
Outbound calls are often used for:
Sales: Through lead forms or other lead generation tactics, businesses contact potential customers.
Fundraising: Agents contact donors and potential donors to generate donations for nonprofits.
Marketing efforts such as surveys: Businesses can gather market research through surveys and scheduled follow-up calls.
The history of the outbound call center dates back to the 1960s. At the time, women would work from home calling on behalf of automotive manufacturer, Ford, to gauge consumer interest. The women contacted 20 million people, which translated to 40,000 car sales. This was the first recorded instance of telemarketing, which would grow to become something much bigger.
Today, call center technology uses advanced analytics, dialing tools, and more to improve and speed up outbound calling. But this just scratches the surface of the many features of modern call centers. We'll dive into more below.
What is the outbound process?
Outbound sales is often paired with an inbound marketing strategy where a person fills out a lead form. The process begins with sales development representatives (SDRs). SDRs work a list of leads and call them in an outbound fashion. They field questions, schedule future meetings, gather information, and determine if the person or company is a good fit. 
Sales teams can find potential customers through cold calling, outbound emailing, and booking demos with qualified prospects.
However, outbound communication still involves helpful discourse between agents and the customer. This can help build lasting relationships and create happy customers.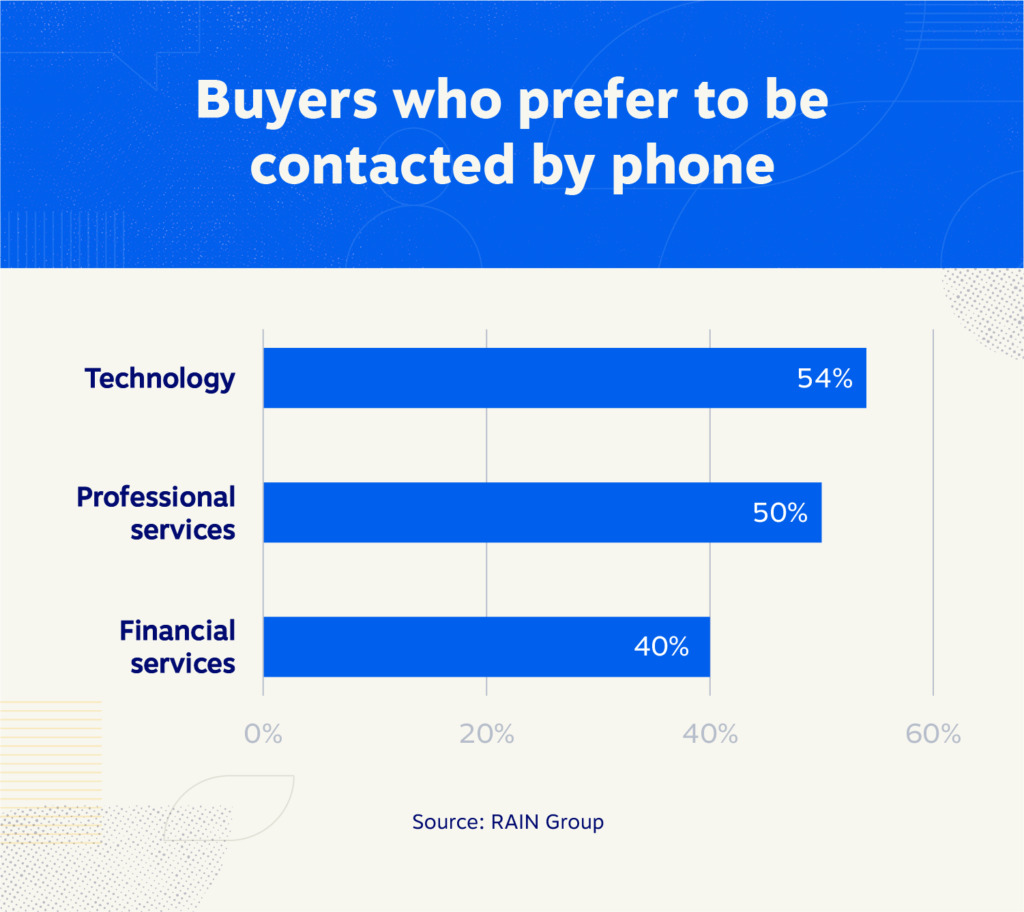 While this sounds like a fairly simple process, the outbound process has its own set of hurdles. Outbound call centers have to walk a fine line between connecting with customers without becoming a nuisance. They must comply with the Telephone Consumer Protection Act (TCPA). This is an added hurdle for agents to navigate as they conduct their outbound calls.
What is the difference between an inbound and outbound call center?
The main difference between these two types of call centers is that they are focused on different goals.
Agents at inbound call centers receive calls from customers (often for support or information) and nurture pre-existing relationships. Outbound agents do a number of tasks, such as finding potential sales opportunities, appointment setting, and follow-ups with customers. 
So both types have agents that listen to and problem solve for the customer. But inbound primarily helps customers resolve issues and builds brand loyalty. And outbound is a proactive approach that finds new customers, gathers information about their experience, and helps grow a business.
One example of this is if a customer received a scheduled service such as a home cleaning. An agent could reach out to a customer after the cleaning to see how it went and resolve any complaints. This helps quickly inform a company if a service wasn't up to par rather than discover how it went through a bad review.
Outbound vs Inbound call center services
| | | |
| --- | --- | --- |
| | Inbound call center | Outbound call center |
| Types of calls | Calls that come into a call center | Calls that go out from a call center |
| Goals | Customer service | Lead generation |
| Types of service | Support and product/service inquiries | Selling and market/customer research |
What is the purpose of an outbound call center?
Outbound call center services lend themselves to a variety of call center campaigns. Here are six of the key offerings.
Proactive customer service
An outbound call center allows you to alert customers of service outages, delivery delays, and other pressing information to assuage concerns and issues. Not only will this help build your rapport with customers, but it will also cut down on the amount of inbound calls you receive from frustrated ones. 
Lead generation
This type of sales strategy can lead to impressive results. Hubspot found that 62 percent of businesses said that their outbound sales strategy is effective. 
Collecting customer surveys and feedback
Conducting market research through customer service satisfaction questions helps businesses gather in-depth insight. Agents can also follow-up with a customer to alleviate bad customer reviews with friendly service.
While agents are talking with customers, they can also look for ways to cross-sell and upsell. This can be done by actively listening to a customer's needs and connecting them with sales agents.
And this tactic has some impressive results. The probability of selling to a new prospect is 5-20 percent. However, the probability of selling to an existing customer is 60-70 percent.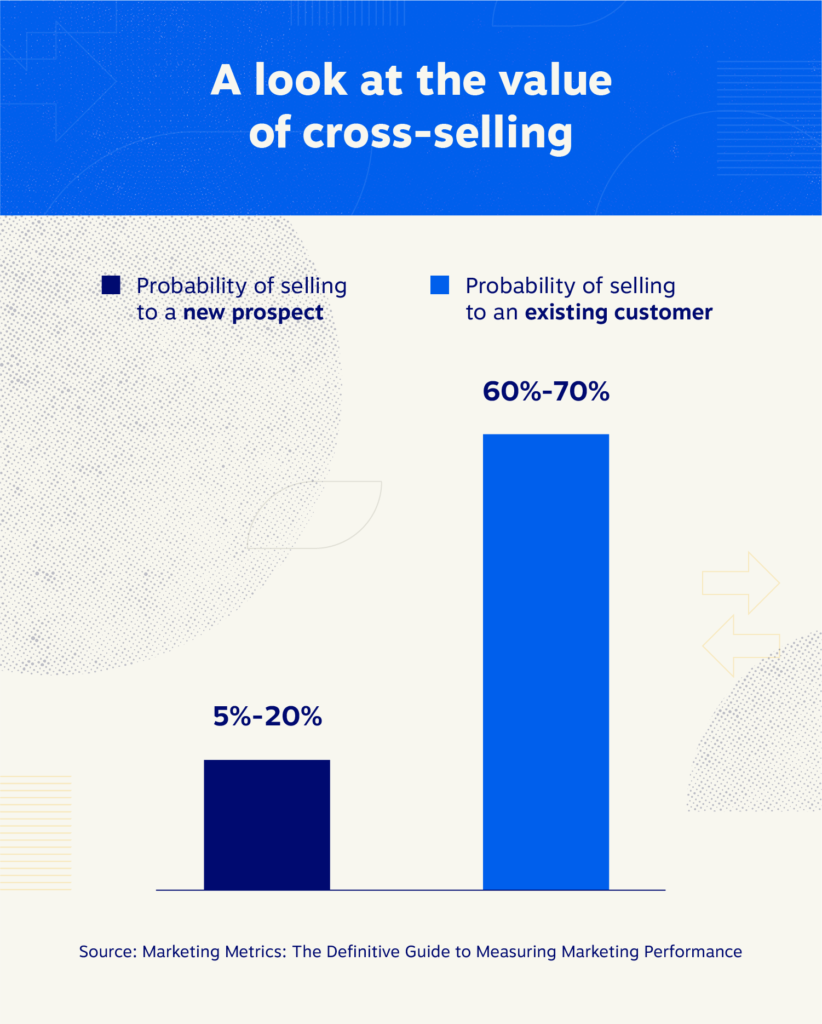 Appointment setting 
Agents can book appointments for prospects to meet with a sales representative. This lets sales reps jump into the process once a lead has been thoroughly vetted, saving time and streamlining the sales process.
Correcting billing issues
Outbound teams can also contact customers to let them know that their subscription is up for renewal. Or, if a bill is overdue or there are billing errors, they can call customers to help resolve the issue.
Scheduled customer callbacks
Agents can avoid irritating customers by keeping them on hold through scheduling callbacks. This helps eliminate long wait times for the caller and improves customer experience.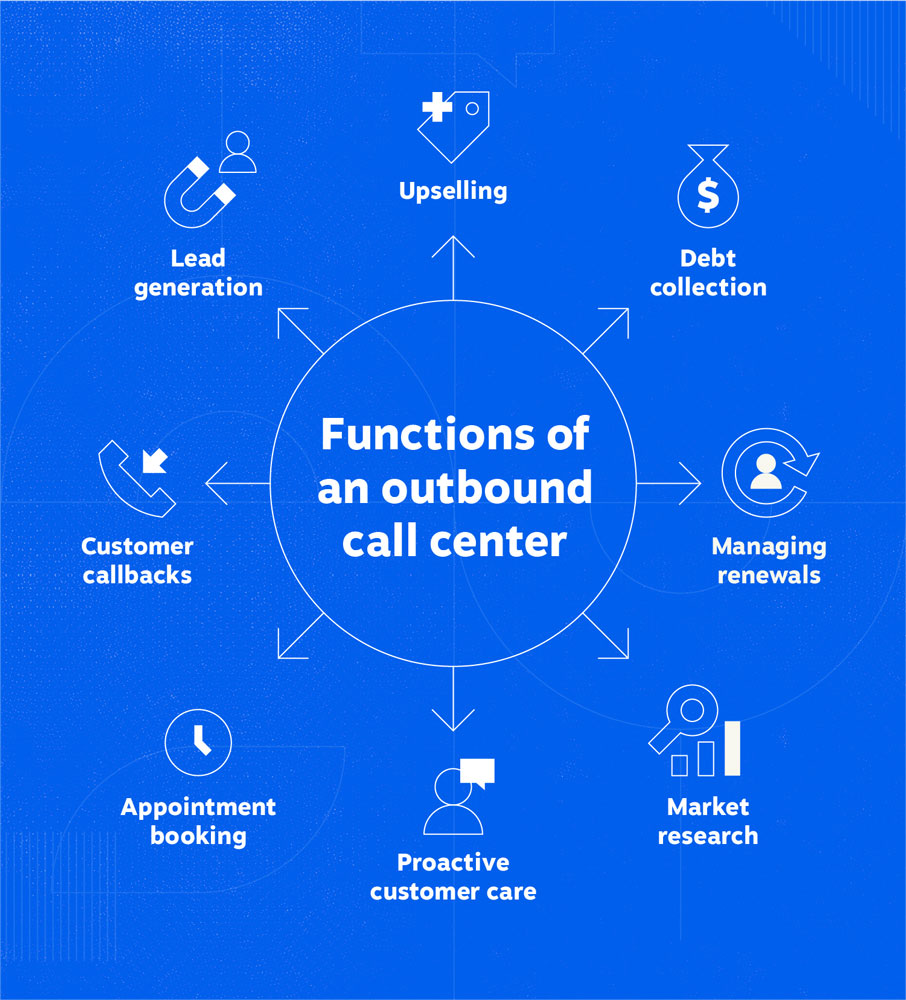 Key features for outbound call centers
Here are a few key features to consider when looking for an outbound provider. 
Dialer tools  
Sales dialers allow agents to improve their efficiency and the volume of calls they are able to make. The types of dialer tools differ within outbound call center software, but here are a few of the most common:
Predictive dialing: Predictive dialer tools automatically dial numbers for agents. Nextiva prohibits the use of auto/predictive dialers.
Power dialing: Similar to predictive dialing, power dialing allows agents to automatically make calls, one after another.
VoIP dialing: With VoIP, agents can make phone calls anywhere there's an internet connection. This lets them work remotely and eliminates the need for a phone line.
Custom caller ID
If a caller ID phone number is local to the customer, they're more likely to answer the call. That's why modifiable caller ID is essential in outbound communication. The agent's desktop can see only the customer's number entered by the agent. The incoming call at the customer's end shows up with a phone number belonging to their area.
Click-to-call capability
Click-to-call is sometimes referred to as click to dial and one-click calling. It's a phone system feature that connects phone calls using VoIP.
Call recording
The ability to record conversations with customers can greatly improve agent success. This feature is also used to track agent performance to help them improve.
With VoIP call recording, companies are able to offer quality call assurance, minimize legal risks, and increase accountability.
Advantages of an outbound call center
As important as inbound calls are for strengthening customer relationships, outbound call centers help you bring in new ones.
Here are several benefits that you might not know:
Reach customers on their schedule: Agents can place calls to customers at a time that's convenient for them. Whether your agents are helping with an order or technical support, the customer will be grateful to not wait on hold.
Improve customer acquisition: The most obvious benefit is to business development. Agents identify prospects and reach them while they're still in the initial stages of the buyer journey. This saves the customer valuable research time and allows you to position your company as the best fit.
Retain more customers: Agents can check-in with a customer who's up for renewal. This can foster genuine conversations and prevent customer churn.
Boost agent productivity: Having separate teams handling inbound and outbound calls helps them hone their skills. In turn, this can help improve their efficiency.
Track important metrics: There are many call center metrics to track. Using these can help track agent efficiency, drive lead efficiency, and help agents compare and sort lists to find high-quality prospects.
FAQs
Below, we'll answer a few frequently asked questions about outbound call centers to determine if one is right for you.
Who uses this software?
Companies often add an outbound for business development and proactive customer support. Industries that use this software include nonprofits, healthcare, insurance, hospitality, retail, and telecom companies.
How can an outbound call center help my business?
They grow sales because agents are actively making calls to potential customers. They also help continue relationships with new customers by educating them on new product offerings and updates.
Does my company need outbound call center software?
If you're looking to grow your business, outbound call centers can help. Agents can use lead generation to grow sales and cut down long wait times for customers with call queues.
But if your focus is to help customers who are contacting you, then an inbound call center is the right option. You could also combine the two with a hybrid call center.
There are many benefits to adding an outbound call center to your business strategy. This is invaluable if you're looking to improve relationships with customers or find new prospects.
And if you want a hybrid approach, Nextiva's VoIP call center solutions will help your business strike a balance between the two call types. Our software will help you deliver personalized service, communicate with customers, and track real-time analytics to help your agents — and business — grow.